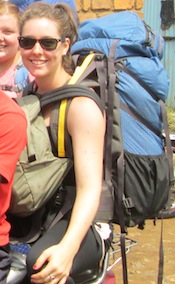 Operation Groundswell's East Africa Politics and Perceptions (OG EAPP) learned about environmentally conscious waste management from their local partners in Kisumu, Kenya. The program participated in a Peace Bench project requested by Ecofinder Kenya, in conjunction with the Dunga Ecotourism and Environmental Group (DECTTA). The Peace Bench combined an environmental conservation project, with the dual purpose of promoting politically motivated discussions, and environmental consciousness with not only the youth but also all citizens of Kisumu County on the shores of Lake Victoria.
The Peace Bench, made of Portable Landfill Devices (PLDs), was designed to be a meeting place for community members to sit, talk and discuss all things politics. The Peace Bench is located just outside the Ecofinder office and moments from Dunga Beach, a perfect place to relax and getting engaged. Environmentalism and Politics are closely linked. Political motivation is needed to encourage change in environmentally damaging waste management, and fishing practices in the Dunga Beach region of Kisumu.
PLDs are created by filling plastic water bottles until firm with garbage from surrounding areas. According to Ecofinder representatives, waste management is problematic not only in the small Kisumu County but also regionally, nationally and continentally. Ecofinder also added that by having trash collecting sessions at local school children are not only able to participate in cleaning the environment, but also to become more educated about the larger environmental concerns in their area.  The PLD's are great ways to encourage the reuse of garbage that would otherwise be burned in large community garbage piles.
The problem of waste management is not unique to Kenya, but is a problem facing virtually all nations in the developing world. Will Zylman, 19 year old OGEAPP team member said, "Working with Ecofinder was an amazing opportunity. Getting to work with the people in the community and make this bench out of trash we had cleaned up was an unforgettable experience." Learning about environmental projects has inspired both the youth from Canada who participated on this project, but also the local schools to get involved and make Earth Benches as they are more commonly called a mainstay of school programming/activities.
The Peace Bench was just a small project to exemplify the larger programs that Ecofinder Kenya and DECCTA are involved with. Additionally, the development of Eco-San Toilets, and solar powered rental lanterns are offered to improve the affordability of energy, i.e. using renewable sources. The Eco-San toilet projects funnel gases from the long-drop toilet to fuel stoves. This lowers the gas burden on families who would otherwise rely on gas for cooking, or for light to sell products after dark.  The solar lantern rentals offered by Ecofinder for merchant women promotes their businesses in the informal sector. Street side vendors in Kisumu need light to sell by, many use gas-powered lanterns, however these solar options provides an eco-friendly solution
A big focus with the partners across the globe this year was sustainable, and useful waste management strategies that include the employment of bottle bricks in project requested by local partners. Additionally, news surrounding OG's new Hub project in Guatemala includes these very same tactics to not only positively impact local communities. Albeit not using the PLD method, but the use of recycled materials is the main method of building supplies.
Both Ecofinder and DEEG is a local environmentalist NGO based out of Kenya. The chapter located in Kisumu, Kenya hosted the OG EAPP team in starting on July 18 2013. The Ecofinder branch located in Dunga Beach region of Kisumu are a new wave of environmental plus organizations that combine an environmental with other community issues (ex. gender equity and public health).  The Global North can take many of the eco-solutions being developed in the Global South and apply them to living in the global north—albeit there are limitations. But clearly, with populations expanding in the global south at much rapid rates, waste management and environmental issues can exacerbate existing issues of food security and safe drinking water. Empowering organizations to continue to move toward more sustainable practices bodes well for everyone on the planet, whether or not you live in Kisumu or Toronto.
Other partners of DECTTA include Kenya Wildlife Seminars, Lake Victoria Tourism Association, Cultural Museums, Nature Kenya, and the Natural Environmental Management.
Get involved with Ecofinder by contacting them on Facebook or their website.
YOUTUBE LINK: http://www.youtube.com/watch?v=9OsdkBRKroI
It's a gross topic, but here are more ways that human waste can be put to use:
https://www.engineeringforchange.org/news/2012/11/21/ten_ways_to_put_human_waste_to_use.html